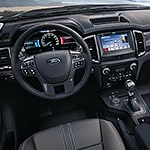 The all-new Ford Ranger is a powerful and popular midsize pickup truck that holds its own against its competition. In fact, its design features appeal to car buyers today. They make the new Ranger even more convenient and fun to drive.
The interior design alone makes Ford's new Ranger a worthwhile investment. It has enough space to fit up to five people. You can get your new Ranger in either a crew or a super crew cab style.
The seats are upholstered in soft-touch material and trimmed in leather. They feature tight stitching to withstand high levels of wear and tear. The interior comes in muted neutral tones like beige.
The interior is also designed to provide a smooth ride and minimize road noises. The seats have deep cushioning and provide lumbar support for comfort. You can ride for long distances without your legs or back feeling cramped or stressed.