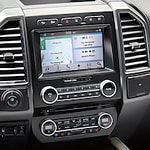 The Ford Expedition is a popular full-size SUV for comfort meeting style. Its interior is spacious and comfortable. Up to 8 passengers can ride in the SUV. Two of its key interior features are leather seats and a leather-wrapped steering wheel.
As the driver, you can keep your hands toasty in the winter by using the heat function of the Ford Expedition's heated leather-wrapped steering wheel. It provides a luxury feel while you drive as well. You can choose a ventilated and heated seat for the driver's seat for even more comfort as the driver. The third row of seats in the SUV can be reclined, and the second row is adjustable via a tip-and-slide mechanism.
Our team at Keller Bros. Ford Lebanon in Lebanon, PA loves the comfort and style of these interior features. The Ford Expedition is a great SUV to choose if you care about stylish yet comfortable interior features.