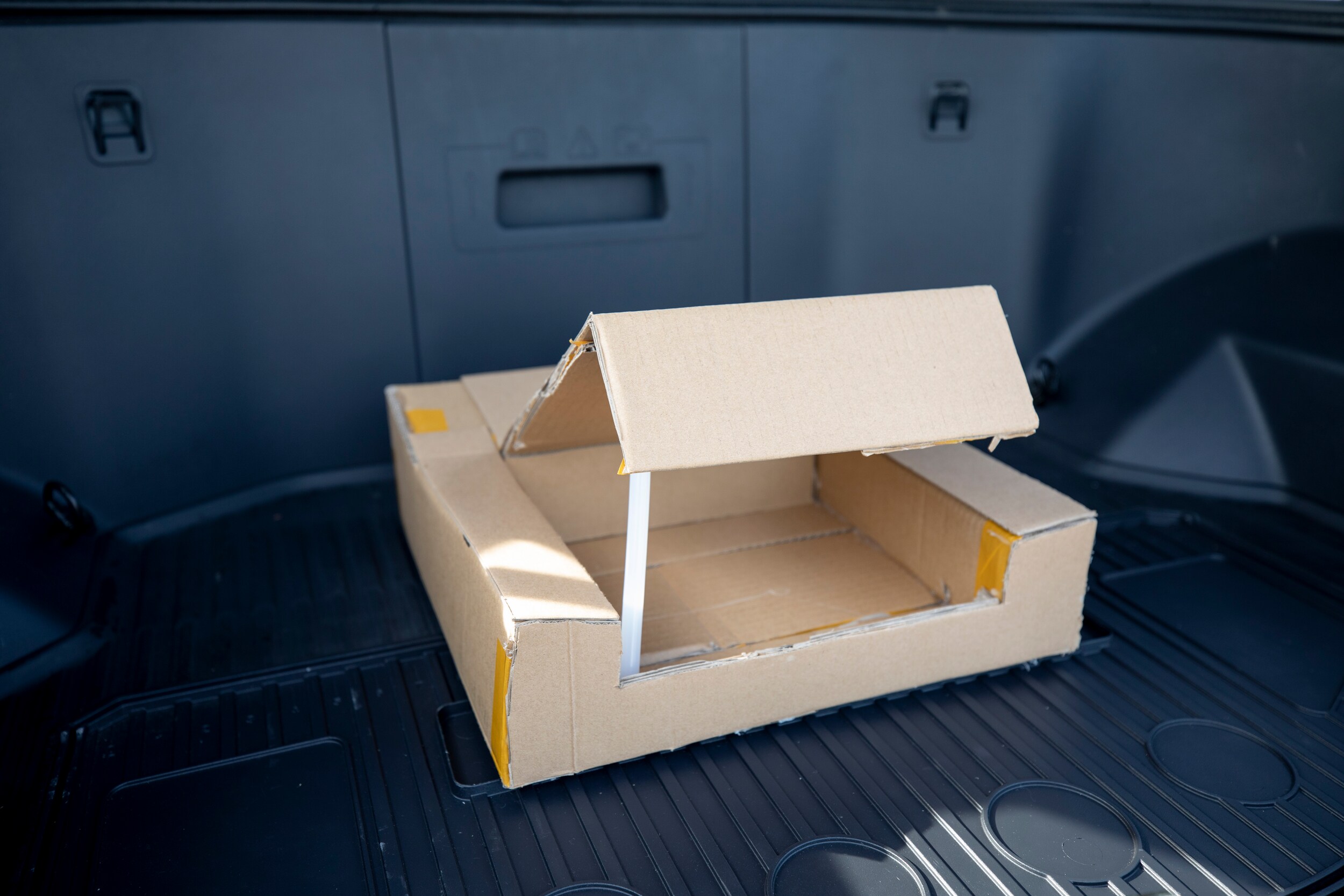 The new all-electric F-150 Lightning boasts an enormous number of innovations and features, and one of them is a new front trunk (sometimes shortened to frunk). The largest in the industry, it surprisingly began its life as a humble cardboard box that was used by the design team to build a prototype.
The design for this feature began in February 2018. A group of user experience designers sat down with Ford truck and fleet customers in California to discuss the usefulness of this kind of storage in a truck. The prototype for the front trunk was made out of a cardboard box for simplicity and cost effectiveness and was built with scissors and hot glue over the span of about a day. This model was taken to meetings as a visual aid.
Greg Ardisana, design strategy director of passenger vehicles, and other research members of Team Edison, Ford's dedicated battery electric vehicle team, worked alongside the engineering and design teams, providing answers and collaborating on the subject of customer use questions.
One of the benchmarks for the front trunk's usability that customers were excited about was gold bags, liking the idea of being able to fit not just one golf bag but two, even on a day when they weren't planning on golfing. Added security was also a desired factor, as well as lighting to make the storage more usable at night, a place to charge tools, optimized height, and other standards of usability. Demands were high for the frunk, and the team had a lot to accomplish, but the finished product was worth the effort.
The frunk is durable and easy to clean, with a rubberized, anti-slide floor. The team added truck bed lamps in the hood to create an internal light source that prevented cargo from blocking lights and avoided glare and shadowing of the load area. Four outlets and two USB chargers were added, enough to charge power tools, phones, tablets or laptops, or even hook up speakers for a party or tailgate. The frunk is waist-height for easy access, with the waterfall grille integrated into the hood. The "Mega Power Frunk" includes a powered open and close function that has six different ways to open it, including on a smartphone via the FordPass app and an integrated push button on the grille. The frunk's water resistant and cleanable lining as well as its drainable floor even allow it to be filled with ice and drinks as a cooler.
With all this utility built in, the innovative front trunk will surely be a popular feature on the F-150 Lightning.