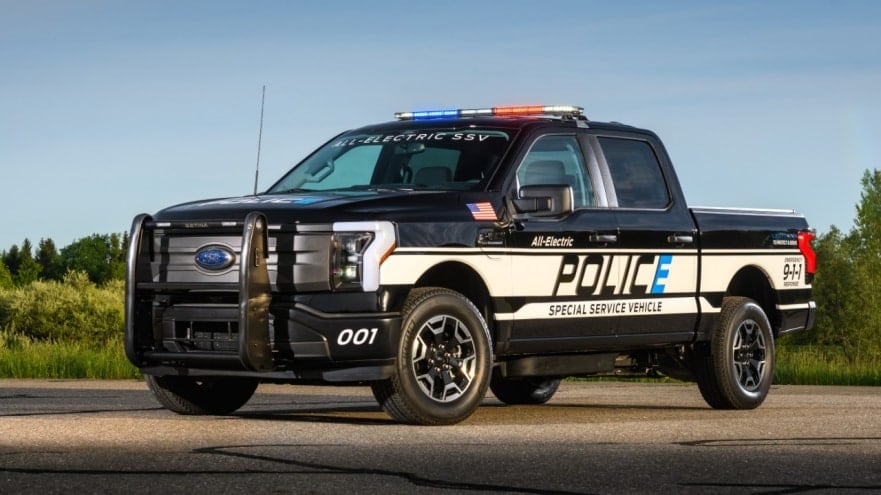 Ford recently debuted information about the latest F-150 Lightning pickup truck tailored for police operations. Specifically, Ford unveiled the F-150 Lightning Pro Special Service Vehicle – what the company calls the first electric pickup truck in the US that is specifically designed for police work.
The Ford F-150 Lightning is the first all-electric pickup from Ford and brings EV innovation to the forefront of powerful and reliable vehicle operations, particularly in the United States where the F-Series is the long-time champion in pickup truck sales and utility.
"We're proud to offer America's first electric police pickup truck to local government customers who can use the truck's game-changing technology to help improve their productivity," said Nate Oscarson, Ford Pro national government sales manager. "Pro Power Onboard can serve as a mobile power source2 to light up evening accident scenes on the highway, the electric powertrain helps to potentially reduce costs associated with fuel and scheduled maintenance needs3 and the Mega Power Frunk provides extra lockable storage on top of purpose-built police additions our customers have come to expect from the leader in police vehicles."
The SSV edition of the F-150 Lightning shares a lot with the still-new EV pickup it's based on, including a vibrant 12.0-inch screen in the center of the dash, the very same version found in the consumer-grade Lightning. Even the Lightning's Performance numbers are rated the same across the lineup, supporting drivers with 452 horsepower with the standard-range battery, and 580 horsepower from extended-range models.
The SSV also shares the standard Lightning's 4.0-second time to achieve 60 mph, which bests all police vehicles except the Ford Mustang Mach-E police prototype that was evaluated by the Michigan State Police. Range numbers will probably be similar to the standard Lightning with 230 miles for the smaller pack and 320 for the bigger option, though precise numbers have not been confirmed.
Stay tuned for more information on 2023 F-150 Lightning, including the pickup's driving range, will be revealed later this summer. To keep current with all of Ford's electric vehicle research and development, keep reading our blog at Keller Bros. Ford in Lebanon! To address any questions or concerns, don't hesitate to contact us today!