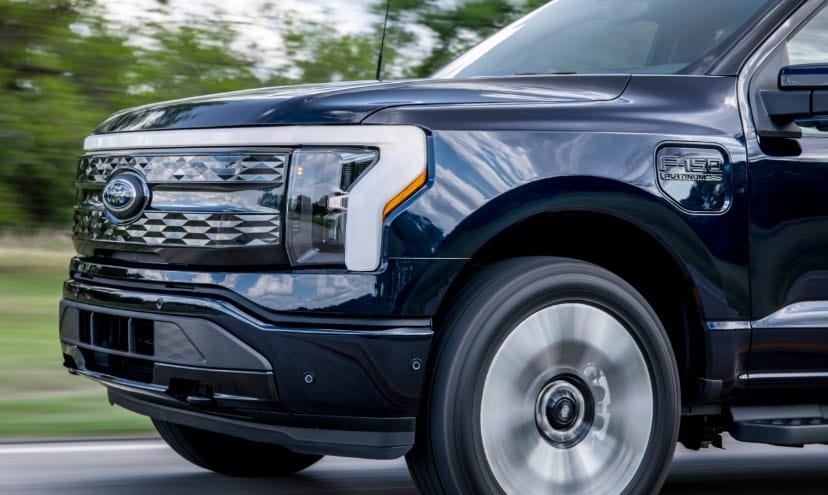 The all-electric 2023 Ford F-150 Lightning is set to gain an increase in its battery range. Ford recently announced that the innovative pickup truck would also get an upgraded new trailer hitch assist feature. An industry first, the Pro Trailer Hitch Assist feature automatically controls steering, throttle, and brake inputs so it's always easy to connect your trailer.
Specifically, the new mile range for the Ford F-150 Lightning went up by 10 miles – now 240 from 230. which may not seem like a lot. However, this increase is an improvement in the pickup's overall performance. Owners using the truck's extended battery will also see an improvement in range. This new increase will come standard on the new F-150 Lightnings produced in the Fall. Additionally, these trucks will have two extra exterior color options available: Avalanche Gray and Azure Gray.
While the blue oval company has been reliably making improvements to the F-150 Lightning, Ford has also endeavored to increase the overall production of the new pickup. Similar to the situation with the Mach-E, due to high demand, the has had to close order banks. Thankfully, Ford is ready to reopen order banks to better meet consumer demand.
"Due to significant material cost increases and other factors, Ford has [also] adjusted MSRP starting with the opening of the next wave of F-150 Lightning orders," Ford said in a press release.
F-150 Lightning reservation holders who previously received an invitation to order, but who elected to extend their reservation because their vehicle specification was unavailable, will receive a private offer for use in upcoming waves.
Are you tired of just reading about the cutting-edge F-150 lightning? Want to try it out for yourself? Come down to Keller Bros. Ford in Lebanon where we can help you discover the right vehicle for your lifestyle. You can also browse our inventory of new vehicles online.
For all the latest information about Ford's electric vehicles, keep reading our blog at Keller Bros. Ford in Lebanon! If you have any questions or concerns, feel free to contact us today!