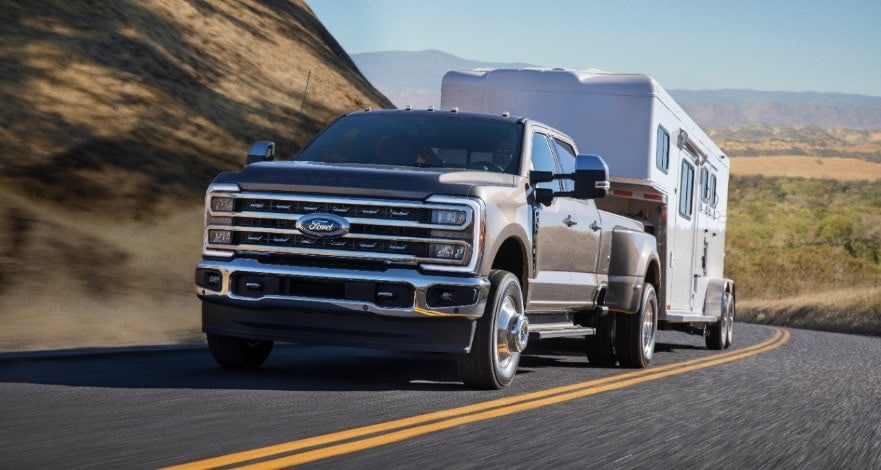 Ford recently unveiled the 2023 F-Series Super Duty pickup trucks for the first time, and there are quite a few impressive updates to consider. Thoroughly redesigned, every new Super Duty is created to deliver extreme levels of work capability, convenient and advanced new technology, and a host of cloud-based services for enhanced productivity.
Every Super Duty arrives with a Ford-built 10-speed TorqShift automatic transmission, and each chassis cab model includes a power take off connection to utilize added equipment, such as boom lifts and plows. Four-wheel drive is also standard for XLT models and above.
Even more, the impressive Pro Power Onboard is also now an option for the Super Duty, supporting you with more transportable power than any rugged pickup or chassis cab. The 2.0-kilowatts of output can power a jobsite or tailgate party. Power outlets are accessible inside the truck and cargo box, or they can be mounted on chassis cabs with a special outlet installation kit.
The innovative Ford Pro Upfit Integration System is an essential feature for customers who require on-body equipment and upfits to ensure great work, including utility cranes or plows. This software delivers improved access to Super Duty's electrical system and signals to easily integrate and operate their hardware on the pickup's digital screens. Cloud-based software connects to the UIS so equipment makers can add digital buttons that allow drivers to control their equipment from inside the truck. The system also allows for high levels of customization* and safety interlocks,** like preventing the transmission from shifting into drive with a raised boom lift.

The 2023 Super Duty levels up connectivity capabilities with Ford Pro, the company's business-focused wing that's focused on maximizing savings and options for commercial customers, including uptime, increasing productivity, and more with a suite of connected vehicles, software, services, and financing.
Super Duty small to large business owners will benefit from software tools such as Ford Pro Fleet Management Software and Ford Pro Telematics, which identify maintenance needs, vehicle locations, driver behaviors, wasted idle time and more.
To stay up to date with emerging information about the 2023 F-Series Super Duty, stay tuned to our blog at Keller Bros. Ford in Lebanon!
Browse our inventory
to discover all of Ford's great heavy duty pickups, and if you have any questions or concerns, feel free to
contact us
today!