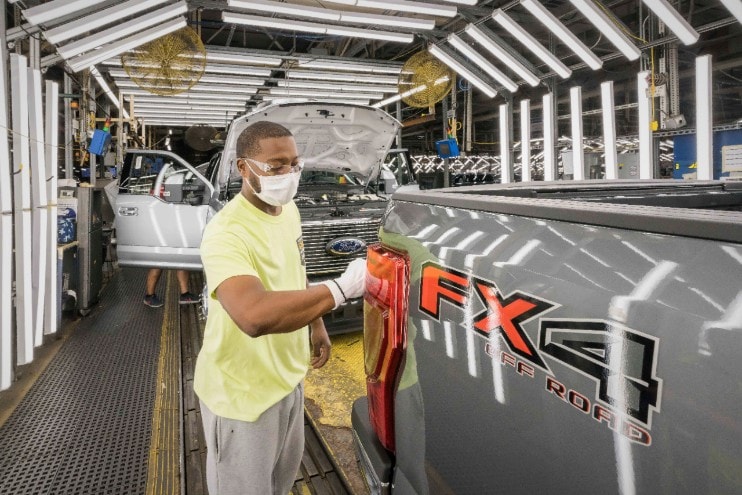 Ford recently announced that, as part of the Ford+ plan toward greater growth and value-creation, the company is investing $700 million into new development resources and creating 500 new hourly manufacturing jobs in Kentucky. This new investment will bolster development for an all-new F-Series Super Duty pickup being made at Ford's Kentucky Truck plant in Louisville. Additionally, Ford will be increasing its business to Kentucky with the BlueOval SK Battery Park. This new $5.8 billion battery production complex is projected to create 5,000 new jobs and provide power for Ford's future electric vehicles.
To honor Ford's investment in Kentucky and the all-new F-Series Super Duty's reveal at Churchill Downs, Governor Andy Beshear declared today to be "KenTRUCKy Day."
"The partnership between Kentucky and Ford goes back more than a century and is only becoming stronger," Gov. Beshear said. "Today's announcement is one of the largest investments ever in Jefferson County and will create hundreds of great jobs, including building the 2023 Ford F-Series Super Duty Truck. Together with last year's record-shattering electric vehicle battery plant announcement, Ford is building its future here in the commonwealth. We couldn't be more proud and look forward to many more decades of success for this iconic American company here in Kentucky."
Ford builds more vehicles in the United States than any other auto manufacturer and earned almost $40 billion in revenue from its F-Series pickup franchise last year. This quantity is greater than the combined world-wide revenue of Coca-Cola and Starbucks. For some shocking perspective, the Super Duty subseries of pickups earns more income for Ford than major companies like Southwest Airlines, Marriott International, or Nordstrom earn in total.
In the heart of Kentucky, Ford is starting to plan a dedicated battery manufacturing facility with SK Innovation at the $5.8 billion BlueOval SK Battery Park – which will provide 5,000 new jobs – to produce innovative electric Ford and Lincoln vehicles. Twin battery plants on site are intended to supply locally-manufactured batteries for new generations of electric Ford and Lincoln cars produced at Ford's North American manufacturing facilities. A collaborative venture between Ford and SK Innovation called BlueOvalSK is planned to finance investments in Tennessee and Kentucky battery factories subject to definitive agreements, regulatory approvals, and other conditions.
"This is a transformative moment where Ford will lead America's transition to electric vehicles and usher in a new era of clean, carbon-neutral manufacturing," said Ford Executive Chair Bill Ford last year. "With this investment and a spirit of innovation, we can achieve goals once thought mutually exclusive – protect our planet, build great electric vehicles Americans will love and contribute to our nation's prosperity."
The plant is just one part of the larger effort that includes the recently-announced Blue Oval City for developing electric vehicles in an ever larger way.
For the most up-to-date information about Ford's ongoing investments in Kentucky and beyond, keep reading at Keller Bros. Ford Lebanon! If you don't want to miss any of the exciting updates, make sure you check our blog here at Keller Brothers Ford! If you have any questions about Ford's recent developments or want to set up a test drive in any of our great Ford vehicles, contact us today!