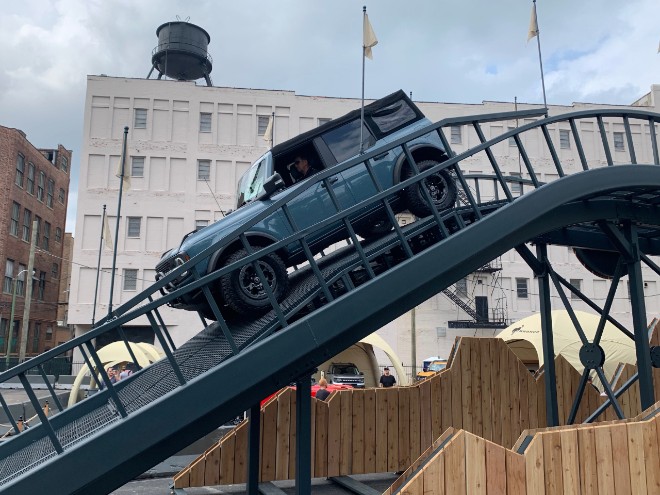 Officially starting today, the Detroit Auto Show is back in action for the first time in over three years. The show offers attendees a new opportunity to get up close with a wide range of new Ford vehicles – including the all-new, seventh-generation Mustang that comes out today too.
"As we kick off the next chapter of the Mustang story, this is also going to be the first opportunity many have had to experience the F-150 Lightning and the Bronco Heritage," said Suzy Deering, global chief marketing officer, Ford Motor Company. "The return of the Detroit Auto Show is a great opportunity to interact with our customers and give them the opportunity to experience Ford's incredible new vehicle lineup."
The excitement begins with The Stampede, a festival-inspired celebration of all things Mustang that culminates in the global reveal of the new Mustang at 8 p.m. EDT, which will also be viewable during the auto show's public days at Huntington Place convention center Sept. 17-25.
Mustang enthusiasts, owners, and Ford staff who signed up for The Stampede can meet at Ford World Headquarters with their Mustangs and drive together to Hart Plaza in Detroit. The event will provide plenty of music, art, design, and eight food trucks before the livestream starts. Food vouchers are offered to the first 3,000 registered guests. Doors open at 6:30 p.m. and the live show begins at 8 p.m.
Auto Show guests can also get a few thrills by hopping in a Bronco SUV for a ride at the official Built Wild Drive Track. They can additionally enjoy the near-instant acceleration of F-150 Lightning for themselves. Ford also will show off its latest F-150 Raptor and Bronco Raptor models at the Dinosaur and Off-Road Vehicle Encounter, a walk-thru experience featuring animated life-size dinosaurs.
At its booth, Ford will host a series of scheduled 30-minute sessions featuring product demonstrations and Q&As with product specialists and Ford engineers. These include sessions on electric vehicles that will cover home charging solutions, route planning and charging on the road, as well as Intelligent Backup Power for F-150 Lightning customers. A Bronco session will demo vehicle features on the Built Wild Drive Track, while another will focus on connected technologies such as FordPass®, Ford BlueCruise, Alexa Built-in and Ford Power-Up software updates.

The Detroit Auto Show public days are set for September 17-25.
To keep up to date with The Stampede and all of Ford's groundbreaking vehicles and latest research, keeping reading at Keller Bros. Ford in Lebanon! If you have any questions or concerns, don't hesitate to
contact us
today!